Our Mission Statement
We, the parish family of Our Lady of Hope, commit ourselves to continue the mission of Jesus Christ, to proclaim His Gospel, and to love one another as He loves us. We are a welcoming community of faith, guided by the Holy Spirit and centered on God's Word and the Eucharist. Through the Sacraments, prayer, and the stewardship of our God-given gifts, we provide opportunities to grow closer to God and to serve members of the community.
---
– Food Pantry Christmas Initiative: collection of $25 Target gift cards – Deadline December 14
– Toy Drive deadline is Friday, December 15
– Baptism Preparation Classes – January 28th @ 11AM 
 ++++++++++++++++++++++++++++++++++++++++++++++++++++++++++++++++++++++++++++++++++++++++++++                                               
                                       CHRISTMAS SCHEDULE:
Sacrament of Penance Saturday December 9, 16 & 23 – 4pm -4:30pm
CHRISTMAS MASS SCHEDULE: 
Sunday, December 24, Christmas Eve   –   4pm (upper & lower church), 5:30pm , 9:30pm Chior concert, 10pm 
*NO Mass at Midnight
Monday, December 25, Christmas Day –   9am  & 11am
New Year's Mass Schedule: 
Sunday, December 31, New Year's Eve  –   8:30am, 10am, 11:30am
Monday, January 1, New Year's Day      –    9am
*New Year's Day is not a holy day of obligation and the Catholic faithful are not obliged to attend Mass.
++++++++++++++++++++++++++++++++++++++++++++++++++++++++++++++++++++++++++++++++++++++++++++
-Family mass – Honoring St. Nicholas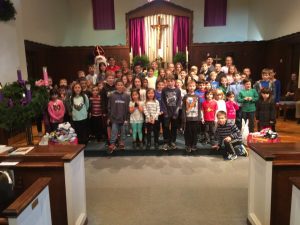 ***The majority of the memorial bricks ordered have been placed by the Grotto on the parking lot side. ***
_________________________________________________________________________________________________________________________________________________________